[from Reservoir, November 14, 2007]
There comes a point in every man's life where he must look deep within his heart and soul, determine what's most important to him and make an extremely difficult and possibly painful choice. Great things must be sacrificed, and many have either died or gone insane in the face of such an enormous moment, their remains resting still forever at the crossroads as reminders that the world is a cruel and unforgiving place.
This Sunday, my time will come.
You see, I wear a lot of t-shirts that say things like Metallica, Nine Inch Nails, Black Label Society and Dream Theater. I own three guitars and play them very loud, very fast and with distortion into the red. I listen to Tool and Megadeth at the gym. I contribute regularly to heavy metal 'zines and websites, and lo and behold one of my long-standing wishes has finally come true: Dethklok, the mightiest of mighty cartoon metal bands, is coming to town.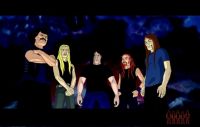 Normally, this would be a good thing. Normally, this would mean blasting "Bloodtrocuted" and "Murdertrain A Comin'" non-stop at full volume in the pre-show ritual as dictated by the metal gods. My ears and torso would learn to flex at all times, bracing themselves in preparation of the onslaught of over-the-top riffage and flying elbows that would surely await at the impending small-scale riot. That they're sharing the bill with one of the loudest and greatest-named bands ever (…And You Will Know Us by the Trail of Dead) would normally be just the bloodied icing on the sacrificial cake.
Normally. The not-so-slight complication to all of this is that the greatest of my weaknesses – and there are many of them – is talented and beautiful women, and that very same evening has Vanessa Carlton playing across town.
On the surface, these two things should be totally disparate. What in the world could a pop songstress/piano mistress who sang that one song from a couple years ago have to do with a fictitious metal band that wants to systematically murder its legions of overzealously devoted fans? Who in their right mind would think there was in any way an equally compelling argument for both "White Houses" and "Go Forth and Die"?
In all likelihood, no one would – but this has nothing to do with style or song-versus-song grudge matches, or what anyone else says for that matter. In fact, if you think about it, Dethklok and Vanessa's tour managers have somehow, incredibly, put in motion the greatest dichotomy that could face a young man.
Dethklok's songs are straightforward, brutal and loud; Carlton's are complicated, delicate and graceful. Carlton is a classically trained ballet dancer; Dethklok can do awesome pinch harmonics. Dethklok will growl that I will most likely die by the hands of their arm, and that will be awesome. Carlton will sing softly and sweetly that with me, she is home, and one more angry young man will simply fall apart. Dethklok will melt my face with over-the-top guitar solos after convincing me of the genius of getting shanked by revenge-minded mermaids. Vanessa will melt my heart once she's assured me that I – yes, I! – am the only one for whom she comes undone. The cartoon ambassadors of high-volume brutality are ugly; the girl behind the piano is quite the opposite.
On paper, it's just two more in a long line of concerts. In reality, it's the ultimate in symbolic dilemmas: the beauty or the Beast? The fawn or the fury? The hilarity or the humanity? The guitars or the girl? What's an avowed metalhead with a soft spot for pretty, dark-haired virtuosos to do?
I don't know. I just don't know.
Vanessa Carlton serenades the Park West along with opener Graham Colton this Sunday at 7:30pm while Dethklok and …And You Will Know Us by the Trail of Dead tear the roof off of Northwestern's Ryan Auditorium at 7pm.