[from Reservoir, November 28, 2007]
This week, Quiet Riot singer and 80's hair-metal ubericon Kevin DuBrow passed away in his home at the age of 52. A lot of people will talk about how his band was the first heavy metal band to have a #1 album (a statement which is not entirely true), or how Quiet Riot truly brought metal to the masses (also not true), or how "Bang Your Head" was some kind of pinnacle in the history of hard rock (definitely not true), but those people are foolishly overlooking DuBrow and Co.'s greater and more lasting contributions.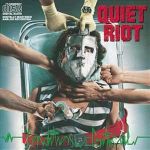 Quiet Riot first hit it big on the strength of a cover of Slade's "Cum on Feel the Noize," a cover which the band has gone on record as saying they had absolutely no interest in doing were it not for the bullying done by their label to manufacture a hit single. Once the track took off, countless others followed Quiet Riot's formula and rode their own cover songs to the top (Mötley Crüe with "Smokin' in the Boys' Room," Lita Ford with "Kiss Me Deadly," just to name a couple), although the Riot boys could never quite make their way back to the big-time in such grand fashion ever again despite trying. Repeatedly.
The band's other great moment came from a review of their fourth album, 1984's Condition Critical, which spawned the two-word review, "Condition terminal," which in turn inspired a very famous scene in This Is Spinal Tap later that year:
Marty Dibergi: The review you had on Shark Sandwich which was merely a two word review. Just said "Shit sandwich."
David St. Hubbins: Where did they print that?
Derek Smalls: That's not real, is it?
Nigel Tufnel: You can't print that!
So in the space of six months, Quiet Riot laid the blueprint on how to strike gold singing songs they hated singing, and later showed how to turn a disastrous album and a catty music press into comedic immortality. Say what they might about arena tours and platinum records, people will inevitably (and unfortunately) leave those things out of the discussion.
More importantly, what people are also going to leave out of this discussion is the simple fact that Quiet Riot, like most pop-metal bands of the time, was never any good. Never. Not even when Randy Rhoads was their guitarist, and if the guy who wrote "Crazy Train" can't save your band then it's safe to say nothing and no one can. Does that mean it's any less fun to rock out to "Party All Night" while doing just that? Of course not. Just remember that no matter how much fun you're having, they're still awful.
And while it's doubtful that the avalanche of posthumous album releases is on its away (a la Jeff Buckley) or that in its frontman's death, Quiet Riot will ever reach some kind of super-mythical status, their catalog spoken of only in hushed tones (a la Joy Division), it's hard to see how, for a little while, the metal masses would stop at the chance to raise a glass or a pair of devil horns in honor of the man whose band made it okay to have a good time selling out and hating your job.
You heard the man: bang your head!