From Desmond Child to "Faith," the history of hard rock and metal is littered with hired guns and fluke hits which, for better or worse, took an artist or group's career to unimagined new heights. In 1995, both of these combined to secretly turn Savatage into possibly the most anonymous of biggest bands in the world.
Suddenly without a lead guitarist after the departure of Alex Skolnick, Savatage lured mercenary shredder extraordinaire Al Pitrelli away from his work with Alice Cooper and Asia to complement the fretwork of the newly-returned Chris Caffery. Lead singer Jon Oliva and producer Paul O'Neill planned a return to the operatic stylings of 1991's Streets, the band's previous high-water mark (at least among fans). Mapping out the tale of a Muslim girl and Serb boy who fall in love at the height of the war in Bosnia-Herzegovina, the songs drew equally from Broadway-esque showtunes, prog-rock jams and straight-ahead hard rock.
The album's instrumentals were noted for how heavily they drew from classical music, most notably the schizophrenic piano-and-guitar pyrotechnics of "Mozart and Madness" and Pitrelli's moment in the digital-delay sun on "Memory (Dead Winter Dead Intro)." Reviews were glowing across the board in hard rock and metal circles, and the band was seemingly firing on all cylinders, which in the world of prog and opera-metal normally just means you're going to tour Japan, play a European festival or two, and maybe make another album if things go well.
Normally. But buried towards the end of Dead Winter Dead were 3 minutes and 24 seconds that would force the band to change direction entirely.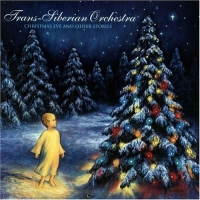 The story goes that an old man, so torn by the war going on around his home city of Sarajevo, held a vigil in the town square, softly playing Christmas songs on his cello through the night as the two armies worked tirelessly to destroy each other. O'Neill, Oliva and keyboardist pal Robert Kinkel took this story and this image – the cello melody, the Christmas carols, the constant shelling – and lo, the instrumental "Christmas Eve Sarajevo (12/24)" was born.
The track became a very minor hit for Savatage, but gave O'Neill and Oliva the assurance that their interest in pursuing that kind of rock/classical/holiday fusion could actually work. In 1996 the three oversaw the production of Christmas Eve and Other Stories, the first release from their Trans-Siberian Orchestra side project, featuring the members of Savatage on rock duties with a wide supporting cast of orchestral players and stage vocalists.
The rest became pop history, with longtime Savatage fans (and in some interviews, O'Neill himself) divided over whether TSO's runaway success was a blessing or a curse. The North American tour consistently ranks among the highest-grossing of the year despite being less than two months long, selling out multiple-night stands at some of the largest arenas in the nation. Savatage, on the other hand, could never dream of headlining Madison Square Garden (O'Neill once commented that merely keeping the Savatage name alive has set him back $1 million). TSO reached such a high level of success that Pitrelli, cunning mercenary that he is, only agreed to join Megadeth – Megadeth! –on the condition that he wasn't bound to tour with them should the considerably higher-drawing TSO be on the road at the same time.
Savatage hasn't played a show for several years now, but TSO became so huge they actually had to split into two separate touring companies. Sure enough, at any given TSO concert you'll see a few of the die-hard fans lurking about, decked out in old-school shirts from the Hall of the Mountain King tour and telling everyone they can how "that 'Carol of the Bells' song is – literally – a Savatage song" and half-smiling, half-wincing at the near identical endings of Winter closer "Not What You See" and Christmas Eve closer "An Angel Returned." They're getting at least a piece of their old favorite band, sort of, but it can't be fun to look around at a hockey stadium full of children and grandparents rocking out to those three and a half minutes of holiday-themed genius that made Savatage into superstars once they just changed their name, stage show, sound, audience and approach to making records, tossing aside the slight pretentiousness of the old band in favor of the endearing cheesiness of the new one.
They may have only set out only to create an opera that rocked but with Dead Winter Dead, Savatage instead created nothing less than a partially alienating, existentially confusing and highly entertaining monster.