[from MadeLoud / July 25, 2008]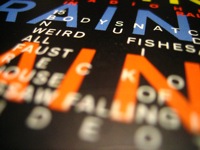 As the last official packaged version of Radiohead's In Rainbows makes its way to retail outlets in single-disc CD form, fanboys, pundits and critics alike are preparing their last salvo of applause and praise for the boys from Abingdon. By virtue of the band's stature, long-running critical favor, intense fan devotion and unorthodox choice of pay-what-you-feel-like distribution, the common theme is that some kind of revolution has just befallen the music world. The rules have been broken, the game has changed, the paradigm has shifted, the playing field is level: there are almost as many clichés as there are formats to choose from.
While no one questions that the band made a fairly bold leap, what so many people fail to realize is that for all the five-star reviews and art-rock appeal, Radiohead is actually doing absolutely nothing new at all. Whether or not they've made any real change will remain impossible to determine for the foreseeable future, but what Radiohead has managed to do is shift the argument away from their music entirely; good and bad are almost beside the point, with the band quietly elevating themself to a position where myth wins over music. More importantly, countless musicians are going to falsely point to this maneuver as evidence that a) record labels are an entirely obsolete entity and b) the internet is the end-all and be-all of getting your music out there. The arguments are plentiful, but generally fall under the umbrella of five half-correct but extremely specific and generally oversimplified myths:
MYTH #1: RADIOHEAD ARE THE LARGEST ACT TO EFFECTIVELY GIVE AWAY A FULL-LENGTH ALBUM
Prince handed out an entire run of Musicology; the follow-up Planet Earth has never been available commercially. Smashing Pumpkins gave away the full-length Machina II and three related EP's as far back as 2000. Both have outsold Radiohead by considerable margins. Both already circumvented the bricks-and-mortar route, meaning the supposedly new idea of free-if-you-want-it-to-be method is in fact very old news.
MYTH #2: LEAVING A MAJOR LABEL WHILE STILL ON TOP IS UNHEARD OF
By abandoning EMI after six consecutive platinum records, Radiohead made a very artistically noble but commercially uninventive move. While trading major-label backing for complete freedom may sound refreshing, a veritable laundry list of mega-acts have done the exact same thing before. Pearl Jam and Epic; Madonna and Warner Brothers; Nine Inch Nails and Interscope; Paul McCartney and EMI. Even Iron Maiden found life after Epic. All of these acts are way bigger than Radiohead, and all broke up with their major before Radiohead ever went through with it.
MYTH #3: PAY WHAT YOU WANT IS TOTALLY A NEW IDEA
This is only a new idea if you've been oblivious to the following tools of self-promotion, digital distribution and new media marketing: PayPal, MySpace, peer-to-peer networks, mailing lists, Usenet, Last.fm, street teams, e-mail, the internet, banks, checking accounts, computers. Florida-based singer-songwriter John Wesley put his entire catalog up for free earlier this year with a PayPal tip jar attached to it. Chicago rockabilly outfit The Golden Boys charges anywhere from $10 to a shot of Jack Daniel's for its albums at shows. Reports vary on what the average user has paid for their download of In Rainbows, but the real question isn't "how much" but "who cares?" The successes of iTunes and eMusic alone should be proof enough that people will actually pay for digital music. That another band chooses to turn music downloads into an open-air market should, at this point, be nothing less than irrelevant. What's more, the Amazon Honor System and the now-defunct MusicLink have actually provided a forum for "tipping" musicians for years.
MYTH #4: FOUR FORMATS IS A LOT OF FORMATS
Comparatively speaking, this is mostly true, especially when most bands' work never sees the light of day in even one form. For anyone around during the mid- to late-90's heyday of multi-part singles, fan club goodies, import-only releases and split EP's, four is a laughably small number. But the important point is the band actually adhering to a tenet often overlooked by bands at all levels of fame and clout: know thy audience and kowtow if at all possible. They know there are audiophiles who will want the vinyl, they know there are clutter-free individuals who only want the MP3 files, and they know there are fanboys who would buy just about anything the band even remotely involved themselves with.
MYTH #5: RADIOHEAD IS LOSING A TON OF MONEY ON THIS
More commonly spewed by old-school types than anyone else, the idea that a band could actually forfeit insane revenue by effectively disposing of the enormous effort required to put a physical product in stores borders on ridiculous. Even assuming 100,000 fans pay an average of $5 for the download-only edition, that's $500,000 directly to the band. Compare this with a per-song statutory payout, which even by generous definition would give the band 70 cents per album: to clear the same tally, an album would have to move 714,000 copies at retail. In one simple act of cutting out the middleman (and most of the top- and bottom-men to boot), Radiohead have actually laid a blueprint on how to make more by selling less.
Ultimately, the problem with all of this isn't that it won't work for anyone else; the problem is that it can really only work for the absolute biggest bands in the world. The built-in publicity and audience mean that any band that sells out arenas worldwide, headlines festivals and has a handful of RIAA-certified albums to its credit can move enough music to make pretty much anything worth the financial cost of undertaking. For the countless lesser-known and lower-profile bands out there, the magic bullet to viable self-distribution remains elusive, if not one step closer.