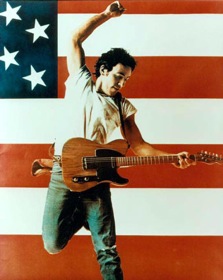 [From Room Thirteen, March 21, 2008]
The assignment sounded simple enough: listen to one artist, genre, or pool of thematically linked songs every minute of a single day, without pause and without skipping any tracks. Make notes on particular tracks or periods in the artist's career. Reflect on any parallels between the songs and what's happening in real life. See what happens when a person is voluntarily trapped in a single musical headspace for that long.
As a child, and later again as an adult, one of my favorite musicians was The Boss himself, Bruce Springsteen. I'll admit to not being from New Jersey, and I'll admit to only seeing one of his concerts (September 26, 2002) and to having never found paradise by the "C." Still, there's something strangely compelling in the way he always just knows how to say grand things in a way that makes them sound so real, yet so out of reach, the way the grand things in life so often are. Many point to this as Springsteen's great flaw, citing this supposed populist appeal as one big grab for the lowest common denominator.
This seems perplexing, as though recognizing the difficulty in attaining a better life for ourselves and the people we love were something to be ridiculed. Some people may think it's just lame to wonder if maybe there is a brighter tomorrow down the road, but I don't hear it like that. I hear the sound of the great big world doing everything it can to make people earn what little good it has to offer. The only difference between Springsteen and Trent Reznor is that Bruce's idol is Roy Orbison instead of David Bowie. The band behind him may sound uplifting, but even the most raucous Springsteen songs carry at least a tinge of melancholy, be it "Thunder Road" decrying the unnamed "town full of losers" in 1975 or something more direct like the simple pleas for human connection in 2007's "Radio Nowhere." We're riding out tonight to face the promised land. . . but is there anybody alive out there?
Armed with an iPod on shuffle mode, fourteen albums, two boxed sets and a hodgepodge of assorted b-sides, compilation tracks, demos and live bootlegs, it was time to see how much promise and misery this writer could handle. This is my story.
Time: 10:12am
Song: "The Long Goodbye"
Album: Human Touch
There are a lot of double/companion albums out there that are shaky in their respective pieces but become outstanding when you trim away the fat – Metallica's Load and ReLoad, for example. For years I have been trying to perform such an audio liposuction on Human Touch and Lucky Town but to no avail, mostly because of the overabundance of entirely non-exceptional songs like this one. Today is going to be a long day.
Time: 11:01am
Song: "Two Hearts"
Album: Recorded live circa 1995-1996, exact performance date unknown
For as much as people rave about the might of the E Street Band, certain Springsteen songs are so finely crafted they work just as well (if not better) when it's just the Boss and his guitar. This is one of them.
Time: 11:34am
Song: "Does This Bus Stop At 82nd Street?"
Album: Greetings From Asbury Park, N.J.
82nd Street in Chicago runs from the South Chicago neighborhood on the east end to Scottsdale in the west. From 79th down to the "crazy hundos" around 103rd, young wide-eyed boys learn very quickly to become tough-on-the-outside young men. The high- and mid-rises that used to be public housing have mostly been condemned by the city, meaning anyone still hanging around the projects here are either achingly poor or desperately hardcore about having a place to do business. Most public transportation in Chicago isn't really designed to serve people outside the rich or tourist-friendly neighborhoods anyway, so to answer your question Bruce: no, it probably doesn't.
Time: 1:01pm
Song: "Open All Night"
Album: Nebraska
The glamour of this song is in the narrator's driving all night to see a beautiful woman he met at a greasy spoon diner. The sad reality is that any beautiful woman working at an all-night diner is already taken, because by virtue of working in said hellhole she's automatically too hot to go unnoticed. This also applies to bartenders and waitresses in dive bars, and to girls in record stores. I envy this narrator. I really do.
Time: 1:55pm
Song: "Candy's Room"
Album: Darkness on the Edge of Town
Young Bruce sure was good at romanticizing lowlifes.
Time: 3:19pm
Song: "Rosalita (Come Out Tonight)"
Album: The Wild, The Innocent, and The E Street Shuffle
A friend of mine lives down San Diego way. I wonder if she knows any pretty little places where they play guitar all night and day.
Time: 5:05pm
Song: "Lift Me Up"
Album: The Essential Bruce Springsteen
This is the worst kind of scam when artists take songs people have never heard and include them on best-of, greatest hit, or essential works albums. If the track is terrible (which it often is), the artist becomes just another liar; if it's a gem, the listener is foolish to dare question the artist. The very idea of it quite unfairly shifts the power balance of the listener-artist relationship towards the artist, which is unfortunate because all anyone wants is more music. Lucky for Bruce, this is one of the better songs he's ever done – a soundtrack contribution very much in the vein of "Streets of Philadelphia," his falsetto at its finest and keyboards at their most ominous. Lift us up, Bruce. Lift us up when we fall for your clever ploys to sell limited editions.
Time: 6:59pm
Song: "Roulette"
Album: Tracks
Tracks was originally supposed to be a ten-disc set, but ended up merely consisting of four. If the second disc of what was actually released is any indication, the sequel needs to be released immediately; the 17 songs collected here from the River through U.S.A. sessions comprise one of the finest albums the man never released. Legend has it that over 100 songs were recorded for U.S.A. alone, meaning that somewhere out there another classic is just gathering dust.
Time: 7:22pm
Song: "Into the Fire"
Album: The Rising
Every person in America has their story about where they were and here's mine: I was camping in the Mojave Desert in California when it happened, and the only reason I found out was because I turned on the radio in my car en route to pay for my permits. A man had called in to the station, barely able to form sentences, talking about how low the planes had flown and what kind of chaos had erupted in the streets. I figured it was a prank by some morning DJ; had I not actually learned moments later the distraught man was a correspondent from ABC News, I never would have believed it. In some ways, some of us still don't. If you head out that way, you can look through the fences at the gaping hole in the ground where there used to be two skyscrapers at Vesey and Church streets, a solemn reminder that nothing is indestructible and even less lasts forever.
Time: 7:59pm
Song: "Valentine's Day"
Album: Tunnel of Love
Springsteen was pretty heavily attacked when he entered his quasi-adult contemporary phase with this album, but in hindsight that seems unfair. The production may be closer to the pop methods of the day than anything else he'd done since his first two albums in their folk-rock aping, but the songs themselves are just as miserable as anything he'd ever written before or since: blues numbers about having nothing to hold on to, swamp rock about unplanned pregnancy, uptempo rockers about insecurity, and haunting ballads about relationships falling apart. In one fell swoop, he undid the previous 14 years of image-building while marching ahead to answer the questions that came next. If Thunder Road leads anywhere, it's probably to this lonely amusement park ride.
Time: 8:35pm
Song: "Youngstown"
Album: The Ghost of Tom Joad
There's an entire swath of cities just like the real-life Youngstown, Ohio – once-mighty factories and mills reduced to tombstones and memorials to a glory these places haven't known for a long, long time. Most of the people I know from that part of the country absolutely hate this song because it lets the world peek in on what was supposed to be their private funeral.
Time: 9:10pm
Song: "Cover Me"
Album: Born in the U.S.A.
For as much success as this album had on the pop charts, it's amazing how dated a lot of these songs sound. Then again, it's been 23 years since their release, so maybe it's a victory in and of itself that they're still at all enjoyable, let alone listenable.
Time: 9:25pm
Song: "Sherry Darling"
Album: The River
How many songs does this guy have, anyway? And why do I have so many of them at my disposal?
Time: 10:17pm
Song: "Dancing in the Dark"
Album: Born in the U.S.A.
It is absolutely amazing Courteney Cox can be so good-looking that she has managed to be the product of three distinct eras of popular culture and is still featured on the cover of beauty magazines around the world. It is also amazing that Clarence Clemons' sax solo on this song fades out after only 41 seconds, because if there was ever a time the Big Man was on fire this was surely it.
Time: 10:51pm
Song: "Streets of Philadelphia"
Album: Philadelphia: Music from the Motion Picture
Sometimes it's unbelievable what four chords and a total cliché of a drum beat can become in the right hands.
Time: 12:24am
Song: "Secret Garden"
Album: Greatest Hits
Between 1997 and 2001, there were exactly two types of women with whom I crossed paths: those for whom I made mix tapes and CDs with the regular version of this song, and those for whom I made mix tapes and CDs with the special "Jerry Maguire edit" of this song. I don't know which was the grander or more lasting statement, but I can say with absolute confidence that every single one of those mix tapes and CDs has been destroyed and totally forgotten about by now. Someday when people do analysis on how much such compilations have contributed to the planet's pollution problem, they will only be telling me what I already knew by the time I was 23: there are too many pretty girls in the world.
Time: 1:05am
Song: "If I Should Fall Behind"
Album: Lucky Town
It's painful to say this, but Faith Hill's version of this song is superior in every way one version of a song can be to another. Faith's version does the pop-country act to the hilt, complete with the male-female harmonies and Americana-shuffle backbeat, but the fact that such arrangement works better than Bruce's ragged Jersey boy take should be all the proof anyone needed that the Boss was not cut out to sing uplifting adult contemporary ballads. Luckily, this album marked the end of that, save for an abandoned album recorded in late 1994 which was supposed to be a darker take on the themes of Human Touch and Lucky Town. This non-album yielded at least the widely-bootlegged gem "Waiting on the End of the World," a track that single-handedly proves Bruce Springsteen is also a way better adult contemporary singer than he ever wanted us to know.
Time: 1:44am
Song: "Tunnel of Love"
Album: Tunnel of Love
Times when any guitar player in the E Street Band truly gets a chance to shine are few and far between, but Nils Lofgren does his part tearing it up on this one. Thinking about it more, you can count the number of Springsteen songs with outstanding guitar solos on one hand, which is odd considering a) the sheer mass of songs he's released and b) the fact that the E Street Band now features a four-guitar attack. And yet for all that, only this and "Candy's Room" manage to stick out of the entire catalog. Bruce once commented in an interview that gunslinger guitarists were a dime a dozen, and that some of these kids coming up were copping tricks from Eddie Van Halen after just a few short years of playing. When you take into account the rest of the era's most successful albums, the possibility comes into focus that by Springsteen and EVH being so good at what they did in such polar opposite directions, the only perfect, logical middle ground between the two was Prince. The Purple One could shred like Springsteen couldn't and he could write straight-up pop hooks that Van Halen wouldn't know what to do with. But even throwing 1984, Like a Virgin and The Unforgettable Fire into the mix, there were only five number one albums in the United States in the year 1984: Thriller, Born in the U.S.A., the soundtrack to Footloose, Purple Rain, and for one week Sports by Huey Lewis and the News. Prince held the top spot the longest, but in the end Bruce won the year's release sales war by a score of 15 million to 13 million. Not a bad year to be one of the select few.
Time: 2:36am
Song: "Badlands"
Album: Live 1975-1985
I went out tonight to find out what I got, but there's one thing I know for sure, girl: I have now been listening to non-stop Springsteen for nearly 17 hours straight, and my music library don't give a damn for just the six hours' worth of Boss music to go. I now believe in the faith that can save me, and I too believe in the hope that can raise me. Lights out tonight, Bruce. You win.