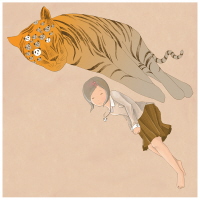 [from MadeLoud, August 8, 2008]
Despite their compact nature, EPs often present a riskier proposition than they should, their theoretically short running times giving the listener not enough time to pass damning judgment but also not enough space for most artists to truly express their vision. For every Best Bit, Watery Domestic or Broken, there are countless throwaways that could have waited for an album to fill out or, in many cases, would have been better off left on the cutting room floor.
Somewhere between these extremities of greatness and irrelevance falls the new Sleepy Tigers EP from San Mateo, CA-based quirk-pop outfit Her Space Holiday. Essentially the one-man band of vocalist and multi-instrumentalist Marc Bianchi, Sleepy Tigers' four tracks come off like less of a sweeping statement and more of a sidebar, which makes sense considering its contents are really just the de facto single and post-session follow-ups from the recording of the upcoming XOXO, Panda… full-length. Relying on a set of almost saccharine arrangements, the songs of Sleepy Tigers each start with a gleeful shuffle and pile on layer after layer of slightly warbled vocal harmonies, blindingly bright guitars, xylophones, whistles and handclaps, all topped off with a lyrical sensibility rooted more in delta blues storytelling than in the mid-1960s school of pop Her Space Holiday's songs actually sound like.
But as with most works in miniature formats, Sleepy Tigers' tiny structure is at once its best asset and its biggest weakness: clocking in at a mere twelve minutes, it's all seemingly over before it even begins. To fans of these kind of sing-song pop songs it will all feel like some cruel tease, but for the uninitiated it may be just short enough to slip in under the radar, as closer "Same Song Sing Along" fades out before possibly driving the nonbelievers to madness with its kids-at-camp chorus.
At the same time, Sleepy Tigers works just enough to beg the question not only of how much Bianchi is capable of, but of how much infectious sunshine the average listener is capable of handling. Not just a solid quartet of catchy songs, Bianchi has put together nothing less than an entrance exam to his new school of pop.