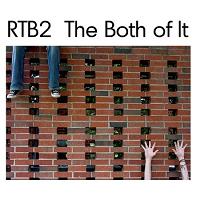 [from MadeLoud, September 5, 2008]
It's a rough world out there for two-piece bands. Take too much out of the standard rock-n-roll power trio or four-piece lineup and people will say your sound isn't full enough; get a little too good at doing more with less and they'll accuse you of ripping off The White Stripes. Yet in the face of such daunting prospects, Denton, TX-based RTB2 (electric guitarist and vocalist Ryan Thomas Becker and drummer/percussionist Grady Don Sandlin) press on and emerge with a refreshing, highly unique mixture of blues, Americana, and even a slight hint of 70s-style sleaze boogie.
Recorded live in-studio, the group's debut full-length, The Both of It, finds Becker and Sandlin pushing what's best described as the minimalist power duo format to its sonic limit. Becker's vocals – think Matthew Sweet drowning in reverb – sound as though they're about to burst, giving an almost mournful quality to each of Both's fourteen tracks. Which is not to say the album is a necessarily melancholy one; save for the reflective "Bottle of Bees" or harmonica-punctuated dirge of "My Butterfly Collection," most of The Both of It borders on raucous, sharing more with the roadhouse blues of John Lee Hooker or fellow Texan Stevie Ray Vaughn than with the downtrodden misery typically associated with anything remotely bluesy. This differentiation becomes especially important as the album unfolds and RTB2 show that while they are probably technically not a blues band, they are still a band that employs techniques common to blues music either thematically or structurally.
Whether in pursuit of absolute minimalism or out of simple necessity, RTB2 make the interesting decision to add neither overdubs nor instrumental augmentation in the form of bass, keys, or any of the other studio trappings many similarly staffed acts opt for. While Sandlin more than holds his own behind the kit (and with the tambourine and cowbell flourishes), Becker emerges as the star of the album. Through either remarkably precise skills on the guitar or merely employing a very good compressor, Becker's playing moves seamlessly from distortion-soaked swamp rock to flawlessly clean arpeggiations and back again. Nowhere are these skills more prominently on display than the album closer, "Yer Fool's Suite (Part II)." Sandlin guides both band and listener alike through the starts and stops while Becker switches between violent strumming and gentle melody. The track, much like the album and the band, shows a forward-thinking duo taking some very old ideas and accelerating them into slightly strange but absolutely compelling directions.