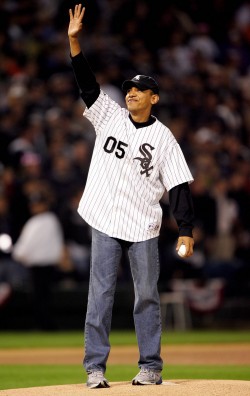 [from Ghostrunner on First, May 15, 2009]
I looked at the standings today, took note of who sat atop my fair city's geographic predecessor and chuckled out loud at what I saw. The papers, it seems, had erroneously printed those Blue Jaybirds of Toronto City as having won twenty-three games – two more than their competitor Red Stockings.
This is incorrect.
As you may recall, several weeks ago your Blue Jays stomped on a certain lighter-hued brand of stocking on the shank-or-be-shanked South Side of Chicago. It was quite the ugly affair, with the White Sox first embarrassed and then just made to look stupid. Fourteen to nothing? Four to three? Whatever. The 2009 White Sox are nothing if not flexible. Any of you Ghostreaders privied to the Chicago-based broadcasts probably heard our dear ambassador Ken "The Hawk" Harrelson and his partner Steve Stone explain the dynamics and complexities of the series to us, the layviewer.
"I tell you what," Hawk may have said, "that Rod Barajas, he might just be one of the best catchers I've ever seen at hitting a baseball."
This may or may not have occurred after Barajas drove in either of those two runs he contributed to your Jays' 14-0 shellacking of my White Sox, but that's irrelevant anyway. The Jays obliterated struggling Sox RHP Gavin Floyd, then two days later laughed in the Sox' collective faces as they couldn't capitalize on Roy Halladay's surrender of three earned runs. Three! Three runs against Halladay is like me getting 100 points in a game of one-on-one against LeBron James in a race to 105: you'll still probably lose, and badly at that, but the amount of room you've been given to work with is magnified considerably given the circumstances.
And those two games, I'm sorry to have to tell you, are why the Blue Jays are not in first place and also why they won't be come Tuesday morning after their probable inevitable series victory over the White Sox. Perhaps you don't pay as close attention to the Pale Hose as I do, and honestly I don't blame you. They are normally mostly ignorable, but so far this season have taken it a step further; the White Sox, at this point, simply don't count. To defeat them is worth no more than taking the day off, in both statistics and in won-loss records.
I want to take a second to encapsulate everything you need to know about this weekend's series, courtesy of the Sox' PR office's preview of Sunday's game:
White Sox: For the fourth time in seven trips to the mound, Floyd failed to post a coveted quality start. Monday's start against the Indians was actually well below the quality cut-off, as the right-hander gave up eight runs on 11 hits over five-plus innings, including two batters faced in the sixth. Floyd has a 0-2 record with a 9.74 ERA in his past four starts and has allowed more double-digit-hit games this season (two) then he did in all of 2008. Floyd already has a 0-1 record with a 10.38 ERA against the Blue Jays this year and stands at 0-2 lifetime against the Blue Jays. But Floyd has never worked at Rogers Centre.

Blue Jays: Halladay threw his first complete game of the year against the Yankees at Rogers Centre on Tuesday. He gave up one run on five hits — matching his lowest total this season — and struck out five. For the third time in his eight starts this year, he did not walk a single batter. He got 16 outs via ground ball, and gave up only two extra base hits, both doubles.
An epic 113 words to explain how Gavin "Wave of the Future" Floyd has fluctuated between bad and awful; seventy-one to say Halladay will either cut you up or kill you outright. I suspect this will set a record for Worst Game of All Time.
"But!" you may counter, "the White Sox aren't in last place! How bad can they be?"
A technically accurate statement, but one that breaks down upon closer inspection. Of the three basement dwellers, the Sox have lost series to two and have yet to face the third. The last series they won was a one-game homestand against the Detroit Tigers.
One game.
Detroit Tigers.
The White Sox, they of the much-vaunted offense and theoretical All-Legends Softball roster, are thirteenth in the American League in team batting average; hard to call them "sluggers" when they're twelfth in slugging, trailing even the likes of the last-in-the-East Baltimore Orioles who, by the way, beat the Sox 10-3 and 6-2 last month. Twelfth in on-base percentage, thirteenth in total bases, last in runs scored. Once upon a time, the bats were going to save them. Those were gentler times. Kinder. Sweeter, almost.
I want to go back to our much-maligned Hawk Harrelson for a second. He's going to say a lot of wacky things on the air this weekend, things about how Kevin Millar is a great professional hitter, how John McDonald reminds him of a young Derek Jeter and how baseball is really just a game where you want to make the other guy not let you get beat at the game of outguessing how that team is going to make the other not lose, and you may scratch your head for a second.
And for years I have cursed this man publicly and privately for such ramblings, questioning how he can be so oblivious to what's happening on the field and in the league to spout off such nonsense and non sequiturs instead of dispensing with actual useful, sensible information. But at times like these, I think I understand. Talk about Rod Barajas. Talk about what an honor it is to be iced by Roy Halladay. Talk about Adam Lind, Cito Gaston and a failed Ontario golf trip from twenty years ago.
Anything but the White Sox.
I suppose the Blue Jays will take at least a few games from the Sox this weekend. Worse things will happen, and I wish you no ill will, but I do ask this: please, please Blue Jays, please be the real thing. Do not let my attempted understanding of Hawkeroo go in vain; I will have died so that you may live.